Trash and chaossss!!!!
January 8, 2016

Hey mister, do you know 'Rock 'n Roll'?
Cine Meccanica is thrilled to support Pizza & Movie night, presented Saturday January 9th at 6pm by Kickstart Cycle Supply. so, slip into your leathers, grab your shades (and earplugs) and hop on over to the Bergen Brick Oven Bar and Grill for a screening of the 1999 classic Wild Zero starring Guitar Wolf, followed by heavy metal karaoke. Yea, it's gonna be one hell of a night!
See you at the flicks…and stick around after for heavy metal karaoke.
Wild

Zero

(1999)
Rock 'n Roll is NOT over, baby! Rock 'n Roll NEVER DIES!
Wild Zero is a 1999 Japanese "Jet rock 'n' roll" zombie horror comedy cult classic directed by Tetsuro Takeuchi, and starring the Japanese garage punk band Guitar Wolf. It borrows many elements from other popular B-movies such as Psychomania and Evil Dead II.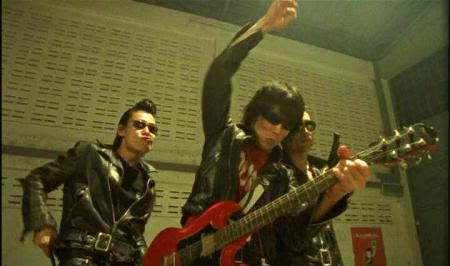 FUUUUUUUUUCK!
Ace, a wannabe rock star, is on his way to a concert of the band Guitar Wolf when space aliens invade the Earth. As a result the dead rise to their feet in the countryside setting of Asahi, Chiba, with an appetite for flesh. Enlisting the help of his rock 'n roll blood brother Guitar Wolf, Ace and the members of the band get entangled in many misadventures with crazy rock managers in very tight shorts, transsexuals, naked women shooting guns in the shower, and bloodthirsty zombies ready to tear them apart.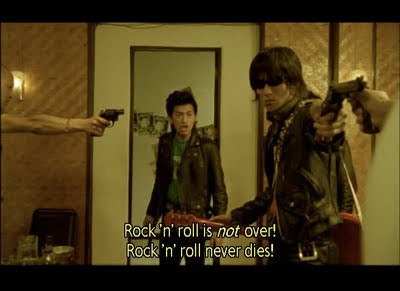 Don't get shitty!
Leather jackets, loud over-modulated music, laser guitar picks, motorcycles, guns, muscle cars, and fire abound. Guitar Wolf, a Japanese trio signed to Matador Records in the US—and self-proclaimed coolest rock band in the world—star as the well-coiffed heroes. It is also a love story, between Ace and Tobio, a trans woman.
Love has no borders, nationalities, or genders!
The music, in a garage punk vein, plays an important role in the film. It features music from Greg Cartwright of Reigning Sound and The Oblivians. His 1997 song "Twice as Deep" by Greg Oblivian & the Tip Tops is featured.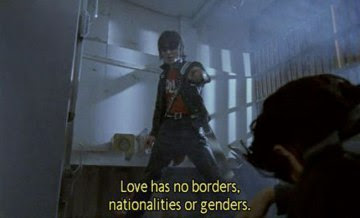 ROCK N' ROLL!
This film is similar to another movie by a Spanish punk group, La matanza caníbal de los garrulos lisérgicos, produced by Siniestro Total (a punk band from Vigo, Spain). –Wikipedia
Watch the trailer
Listen to the Soundtrack (earplugs recommended)